Paradise of Platforms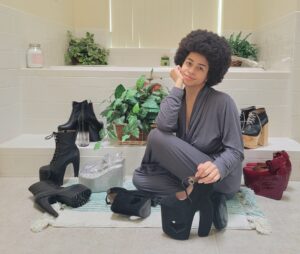 I've always been a shoe and jewelry girl and as you can see I was around for the 2010's reign of platforms. Even as their hype died down I never relinquished my love for the platform. I'm sure the craze will die back down soon enough but that won't stop me and it's not just because I'm short.
If shoes are your thing you should at least get platforms in a sandal, pump and boot. If you're not confident in walking in heels don't feel the need to get platforms as high as picture. Pro tip, you don't want light platforms if you have weak ankles or no ankle support in the shoe. Exhibit A: the Jeffrey Campbell Dinkheart platforms, front and center underneath my hand I present weights without support. I thankfully have relatively sturdy ankles but these are only for flat surfaces not including new carpet. The rest of the shoes pictured are fine for sturdy ankles.
Now, I'm still eyeing the Bratz shoe by Versace(though I've heard they're uncomfortable) and of course the Prada's are a must(not sure about the pointed version). The Amina Muaddi's look like a house will be dropping on you but I can picture them working in a futuristic still photo and Cult Gaia just keeps catching my eye. Basically I have some collecting to do, not sure how long I'll wait as there are always more shoes I want and I'd rather get what I'm lacking first, however, I'm also redoing my closet so we'll see.
Let me know what you think about the recent shoe drops and what's on your wish list.